The fall/winter 2022-2023 athletic schedule is now posted on our new school website. Once on the website go to Menu, click on Athletics, select Sport and click on the schedule you are interested in. Good Luck Nordics!

The weight room is open! Please note- we are waiting on the new weight equipment to arrive so it is not fully equipped or fully put back together but it is functional and has enough equipment and weights available to get a workout in! 🏋🏼

"Congratulations to Samuel Rossi who was promoted to white/yellow belt at North Dickinson School, Black Dragon TKD class."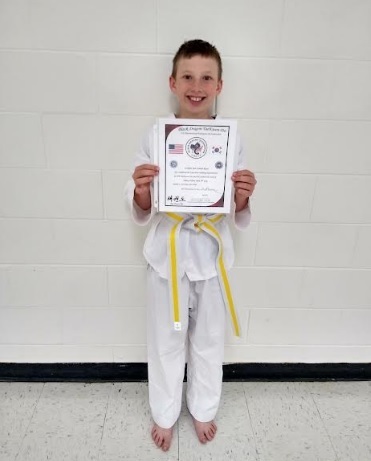 UP North Volleyball is holding a volleyball camp for Nordics July 11th through the 13th. The Middle School team camp is from 1-2:30 PM and the High School team camp is from 3-5:30 PM. Player registration information can be picked up in the office. The cost of the Middle School camp is $55 which includes a shirt or $45 without the shirt. The cost of the High School camp is $75 which includes a shirt or $65 without the shirt. Contact Coach Taylor, Coach Savannah or the school office for more information.

The gym will be shut down on June 24th for floor stripping, waxing and burnishing prior to the wooden floor being refinished. There will be no access to the gym starting Friday June 24th through the July 10th reopening.

Welcome to our new platform. You can access information regarding North Dickinson County School via your phone with this wonderful app or via our website located at
www.go-nordics.com
. We are planning on using this app as a way to communicate with our students, parents and community. We are very excited to start next school year with this new tool.

Reminder: '21-'22 Athletic Banquet is tonight. It starts at 6pm and dinner is provided. This is for all high school athletes, team managers, and their families. See you there Nordics! ❤️

Nordic Weight room is closed until further notice. We will be painting and updating the room. We will post again once it is open!

Congratulations to fourth grade! A group full of some talented actors and actresses! Thank you for entertaining us with your play today. You all did an awesome job! 🙂